JESSICA BUURMAN


​

​JESSICA BUURMAN is a global online store for fashion-forward people. Founded in Dec 2010 by Jessica Buurman.

​Bringing the catwalk to your world, JESSICA BUURMAN mixes street fashion into your everyday wardrobe. Offering a huge variety of desirable High Street Fashion inspired clothes, shoes, bags and other accessories.

There are warehouses located in Australia and Hong Kong China. Everything they offer is chosen with love and passion. Bringing you the most affordable and fashionable styles that are high quality.

JESSICA BURRMAN specializes in celebrity style, high street fashion & street style shoes, clothing, bags and accessories. There is also free shipping worldwide for orders $150 and above.

They are constantly on the lookout for each season's masterpieces in order to provide their customers with the most up to date fashion and styles. Unique styles and big heels are typically what they are on the constant search for. Gleaming their inspiration from Street Fashion, bloggers and celebrity styles, JESSICA BUURMAN offers what's hot and NOW!
​MALLY Lace Up Star Blouse

Material: Chiffon
Lace Up

This stylish blouse features a star design that is sure to please. You'll step out in style and high fashion wearing jeans, a skirt, or dress slacks with this pretty blouse.

You'll appreciate the quality and craftsmanship of this beauty, too!

​DARRY Flounced Bow Blouse

This gorgeous flowing blouse will have you stylin' at work or play. Enjoy a night on the town with your love, or a day with the gals.

Material: Chiffon
Bow Embellished
Flounced Details


​GOREY Polka Dot Asymmetric Hem Blouse

​Material: Chiffon
Asymmetric Hem
Polka Dot Details

This long, flowing, polka dot blouse can be worn with leggings or any slacks for a high fashion look that you'll love!

Wear for the night life, for work, or anytime, any place.

​NISSA Lace Up Cut Out Bow Blouse

Bows are used to accent the open sleeves of this cute blouse. You'll be unique and will turn heads when you wear this high fashion blouse!

We love the red and black contrast of the bows against the white blouse.

This is great with jeans, dress slacks, shorts, etc.

​Material: Polyester & Cotton
Lace Up
Bow Details
Cut Out Details


JESSICABUURMAN HIGH STYLE FASHION
Life is a runway...walk it! Enjoy high style fashion from JESSICA BUURMAN and never wear dull, boring clothes again. Shop the latest high fashion blouses below for any occasion. Free worldwide shipping on orders of $150 or more. So relax, shop, and step out in style wherever you go. Click on photos for details.
Powered by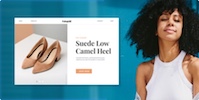 Create your own unique website with customizable templates.